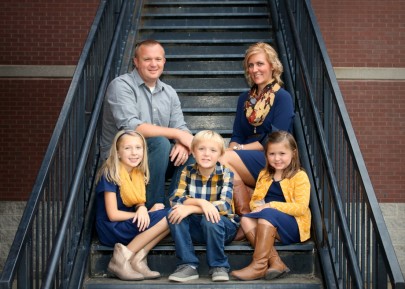 A lifelong resident of Owensboro, Johnston first became involved with and a fan of the annual parade at just 4 years old and is devoted to the mission of the parade committee to ensure that Owensboro has a Christmas Parade every year. Adam was a member of the parade organization for 10 years. He would put his love and devotion to the parade experience for Owensboro residents into action even further when he accepted the chairmanship of the volunteer parade committee and worked an untold number of hours making sure every parade under his command was better than the year before! Under his leadership, Johnston spearheaded efforts to bring Florence Henderson, Carson Kressley, the Clydesdales, and numerous other organizations to Owensboro after successfully bringing the parade back to its roots when the parade route moved back to 2nd Street in honor of tradition.
Adam graduated from Owensboro Catholic High in 1998, married the love of his life, Emily (Ebelhar) of 13 years, is the proud father of three, and feels it an honor to be employed by City of Owensboro for over 15 years. Johnston holds a graduate degree from WKU and truly believes in giving back to his community in which he lives and works. Adam refuses to accept recognition for his many projects that honors our communities and the men and women who dedicate themselves to making Owensboro safer, better, and a place where families can experience all life has to offer.
The Owensboro-Daviess County Christmas Parade Association is humbled to bring Adam and his family back to the parade to honor his dedication to the citizens of Owensboro.