Diane Earle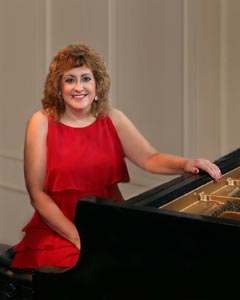 Dr. Diane Earle is artist in residence and professor of music at Kentucky Wesleyan College. She has performed in 11 countries and 30 states. Recent performances have included tours to Italy, China and the Czech Republic. She has also performed in Kentucky for the Alltech FEI World Equestrian Games, Owensboro Symphony Orchestra, Kentucky Arts Council, Henderson Fine Arts Center, Pennyrile Piano Teachers Association, WUOL-FM's "Lunchtime Classics," and Glema Mahr Center for the Arts. Dr. Earle played several performances celebrating the piano's 300th birthday in 2009, culminating with her program produced by KET for the series Kentucky Muse that aired statewide. She is currently working with KET on additional projects. Diane's music is featured on several CDs and DVDs.
Diane's busy 2014-15 season includes return concerts in Rome in addition to numerous local, state and regional performances. Earle partners with violinist Alfred Abel in chamber music recitals and enjoys performing with various ensembles. A newspaper in Wuxi, China, wrote: "When the beautiful music notes cascaded from her fingertips, all the people in the audience were mesmerized."
We now ask that everyone join us on the Saturday before Thanksgiving in Downtown Owensboro, "Where Kentucky Starts Christmas," in honoring Diane and wish her the very best in the years to come.