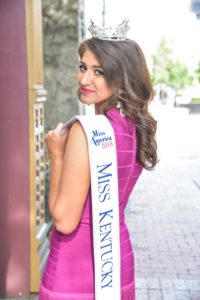 The Owensboro-Daviess County Christmas Parade Association proudly announces that the reigning Miss Kentucky will serve as Grand Marshal of the 82nd annual Owensboro-Daviess County Christmas Parade on Saturday, November 17, 2018 beginning at 4:30pm in downtown Owensboro. "When considering the many different possibilities for our 2018 Grand Marshal, the parade's volunteer board of directors could think of no one better suited than Owensboro's own Katie Bouchard," Public Relations and Media Coordinator Jane Head stated.
Katie Bouchard, daughter of Michael and Amy Bouchard of Owensboro, was crowned Miss Kentucky 2018 this summer and attends Western Kentucky University where she is completing a degree in Social Work. Her personal platform is "Being the Voice for Kentucky's Children" through which she advocates for the Family Resource and Youth Service Centers across Kentucky. As part of her responsibilities as Miss Kentucky, Bouchard visits Kentucky schools as an ambassador for the Kentucky Department of Agriculture and Kentucky Proud, the state's official agricultural marketing program. Bouchard educates students of all age groups about farm safety, agriculture basics, and maintaining an active and healthy lifestyle.
The theme for this year's Christmas parade is "Our Christmas Wish" with an expected 120 floats and other entries making it the first and largest Christmas parade in the tristate area. The public is invited to join the celebration on the Saturday before Thanksgiving in Downtown Owensboro, "where Kentucky starts Christmas."
Find out more about the Owensboro Christmas Parade at christmasparade.net, on Facebook, and/or on Twitter. Find out more about Owensboro and Daviess County at visitowensboro.com or call (270) 926-1100.