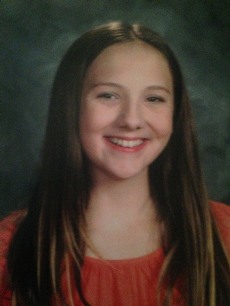 Samantha Phillips, a 12 year-old seventh grader at Daviess County Middle School, will start the 2014 Owensboro-Daviess County Christmas Parade. Samantha is a remarkable young woman who has actively put Owensboro and Kentucky on the map with her many swimming awards.
Samantha began swimming when she was 5 years old and currently ranks 39th in the nation in the Free Style Mile for her age group, is an Open Water State Champion, and most recently represented Kentucky in the Southern Zone Championship held in San Antonio, Texas. Samantha is a member of the Owensboro Marlins, a member of DCHS Swim Team, and a member of Maceo Baptist Church.
Samantha is the daughter of Brian and Robin Phillips and is an A and B Honor student at Daviess County Middle School. Her plans are to continue swimming through college and then study medicine as she hopes to be a pediatrician.